Are you eager to improve your style at work?
Do you find yourself wanting to go straight from desk to dinner but find it hard to find those perfect shoes that will keep you stylish all day long and for any occasion? Maybe you just want to dress to impress for that work meeting. Dressing for work doesn't have to be dull, and looking fabulous will make you feel fabulous so you can kick all those work goals!
The pointed pump is the statement heel of the season and is a must have for any occasion. A sleek pointed silhouette are low heel shoes, mid heel or wedge will keep you looking sophisticated and effortlessly stylish all day long, while being comfortable at the same time. So when it is time to leave your desk for those after work cocktails you have been looking forward to all week, all you need to do is stroll out the door in your chic work outfit with your favourite ladies shoes on.


Our new Bravado is the perfect trans-seasonal pump. With its on trend laser punched front and snake print / block colour back piece, adjustable anklet strap and mid stack wedge heel it adds that extra touch to any outfit. Match it best with a high waisted skirt or shorts and your favourite blouse for an easy chic work look.


Style our new Brigette loafer with a mid-length skirt and a sheer blouse, or with an A-line dress for work-wear perfection. We love this style worn with dresses or skirts to show off the pointed shape and the front trim and glossy overlay strap. With its padded insole and low wedge heel, it's the perfect shoe to keep you going all day long. Choose from a sleek black option, a taupe lizard or a leopard printed faux suede.


Our fresh arrival Air is the statement mid heel pump for the autumn season that you must have! With its laser cut design and almond pointed toe it goes flawlessly together with ankle culottes or tailored black pants, match with a simple shirt and a sleek coat and you are ready to go!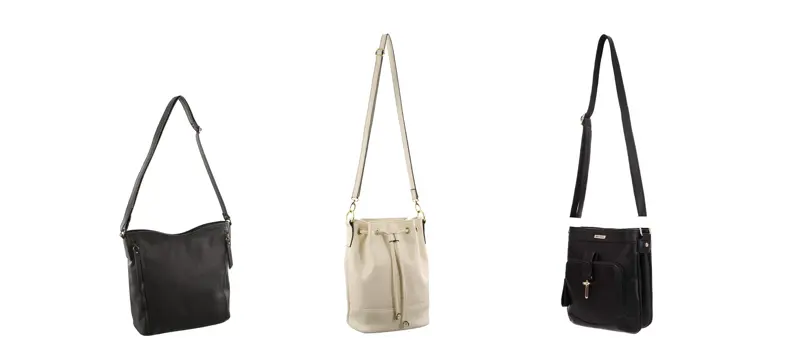 Add a medium sized cross-body bag to complete any chic work-wear look. It's the perfect bag to take you from work to fun, and it can be matched easily with any outfits.
Our three styles Leo, Lash and Hilda will be the cherry on top for your outfit.